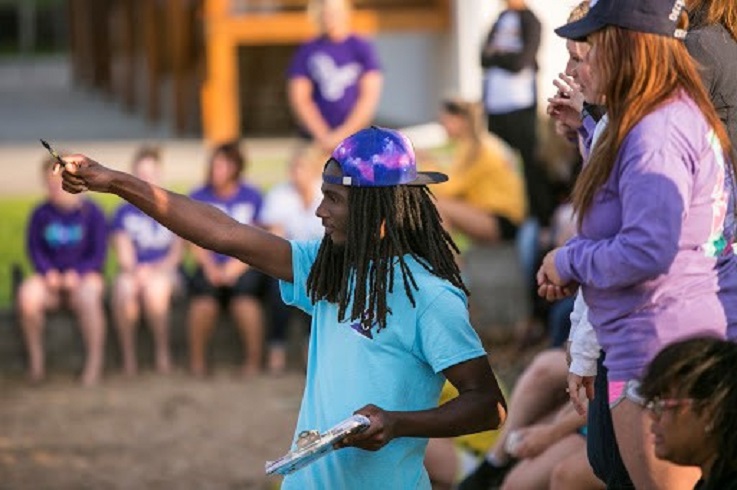 From doing the hokey pokey to leading a mountainous backpacking trip, activities directors' responsibilities can fit into just about anything that interests you.
Last month, we highlighted what graduates of the William Woods master of education in athletics/activities administration do on the athletics side of the degree, but what about the activities side?
Activities directors, also called program directors or activities coordinators, work in a number of industries and locations — such as nursing homes, community centers, after-school programs, recreation centers, hospitals, summer camps, schools, churches or companies.
Their main function is to develop, organize and facilitate various kinds of activities for members, patrons or attendees. Many have goals to address therapeutic, physical, mental, spiritual and social needs of participants.
Responsibilities vary depending on the work setting. For example, an activities director working in a nursing home is going to have different goals than one at a summer camp.
Possible responsibilities, as outlined in the Houston Chronicle include:
Performing assessments on residents or program participants to determine what specific activities are advisable or suitable for their needs.
Arranging creative activities, such as arts and crafts or music; exercise programs; indoor and outdoor activities, such as hikes; or spiritual activities, such as attending churches or other religious institutions.
Overseeing the overall operation of the department, possibly including hiring and training staff, coordinating staff schedules, ensuring that the program adheres to any relevant state or local requirements and recruiting and training volunteers, if applicable to the program.
Reviewing program notes and goals.
Preparing reports to obtain and maintain federal funding or grants.
An activities coordinator with a master's degree can take on more leadership, or senior-level roles, such as a program director, manager or someone who oversees a larger staff. William Woods University Master of Education in Athletics/Activities Administration prepare for this level of leadership — learning promotion of events, organization, and gaining field experience in an area that interests them.