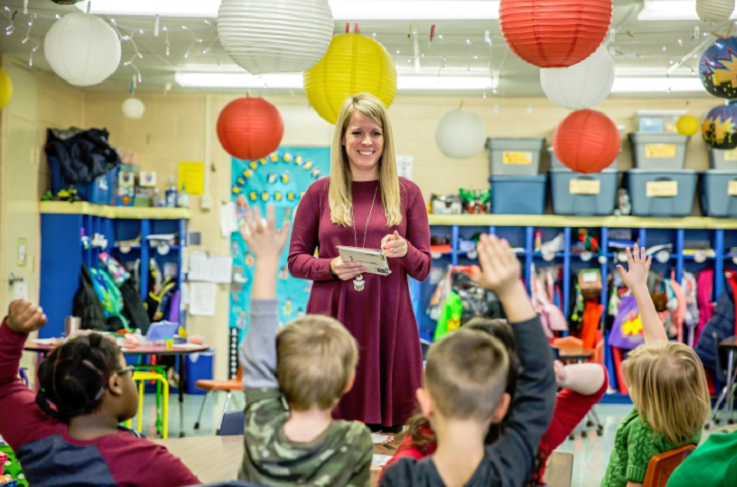 Student-centered learning is a term used to describe a variety of teaching methods that shift the focus of instruction from teacher to student. According to the International Society for Technology in Education (ISTE), student-centered learning "moves students from passive receivers of information to active participants in their own discovery process."
What might this look like?
Take for example, the case of Revere High School in Massachusetts where an English teacher swapped popular texts such as Hamlet or Catcher in the Rye with the television series The Walking Dead. The classroom discussion still focused on the usual concepts of a high school English class, such as plot points, character development and persuasive writing, but the students were learning within the context of a work they cared about.
Structuring lessons and curriculum around student interests is one example of student-centered learning. In the case of Revere High School English class, implementing this method ultimately resulted in greater student engagement and improvement in their writing.
The school's principal, Lourenco Garcia believes that the student-centered approach is particularly effective with minority or immigrant students who may feel disempowered. After implementing student-centered learning at his school, proficient or advanced scores on the Massachusetts Comprehensive Assessment System statewide English test increased by 32 percent among black students and 14 percent among Hispanic students. Meanwhile, the overall school's four-year graduation rate rose from 71 percent in 2009 to 88 percent in 2017.
Student-centered learning goes beyond curriculum. At Revere High School, teachers and students consider how the overall classroom experience can better cater to student's needs. For example, students participate in teacher-led meetings across designated teams that focus on various aspects of student-centered learning. Thus, all new ideas are vetted by both teachers and students before implementation.
One of the challenges with an approach that offers more room for creativity is accountability, says Garcia. That's why he and his senior staff follow a strict rule of conducting at least two classroom observations every day. They then create observation reports which provide valuable feedback to teachers.
At William Woods University, students pursuing Bachelor of Science in Elementary Education take EDU 441 – Student Centered Reading & Writing. This course offers a pre-service teacher an opportunity to practice student-centered learning hands on. Each student teacher will analyze reading and writing samples and assessments of an assigned elementary school student. They will then develop a custom lesson for language acquisition, phonics, vocabulary, and writing skills to address the unique needs of their assigned student.