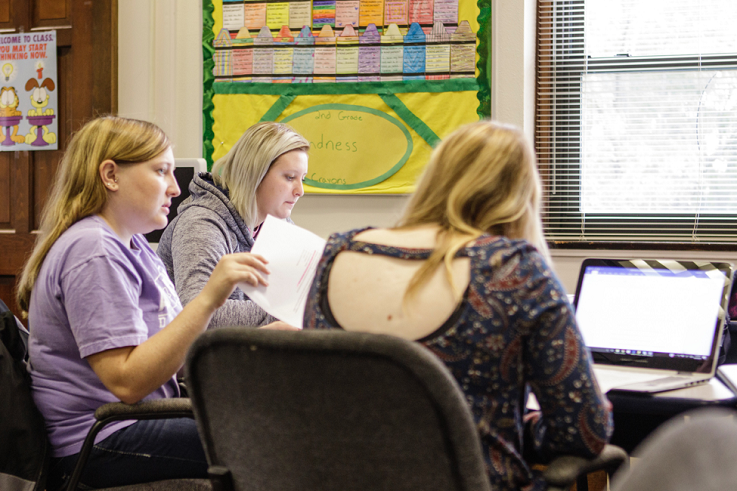 Career networking is often touted as an important aspect of advancing one's career. A recent LinkedIn survey finds that "70 percent of people in 2016 were hired at a company where they had a connection." However, for William Woods education majors, networking can be more than a job search technique. Having a diverse and active professional network can help students prepare for their career but also discover opportunities that go beyond teaching.
To help Bachelor of Science in Education students grow their professional network, we've put together five ideas on how and where to meet other education professionals.
Join the Kappa Delta Pi campus chapter
Kappa Delta Pi (KDP) is an honor society for education majors with a chapter presence at the William Woods University campus. Governed by a national organization, KDP creates an opportunity for educators and future teachers to come together to further their education, exchange ideas, discuss issues and network. At William Woods, the KDP chapter is advised by Associate Professor of Education, Michael Tan. Students interested in KDP may contact Professor Tan to learn more about how they can get involved.
Pursue a graduate degree in education
Many of the William Woods graduate education programs follow a cohort model allowing students to take classes with the same group of people throughout their studies. This allows students to get to know other teachers and leaders from the area and create lasting relationships. For example, Joe Davis, Instructor of Education and William Woods alumnus says that pursuing a master of education was "a fantastic networking opportunity that helped [him] see things from a different, leadership-based perspective, which [he] had never done before."
Attend education conferences
Attending professional conferences can be a great way to meet and network with passionate educators and leaders while also learning about the latest trends in the education community. Today, there are many education conferences focused on wide-ranging topics such as technology, curriculum, leadership, policy, personalized learning and much more. Most conferences offer discontented registration fees for students or volunteer opportunities that can help offset some of the costs of attending.
Leverage social networks to connect with alumni
One of the advantages of pursuing an education degree at William Woods is its rich alumni network of graduates who are now serving as school principals, assistant principals, district administrators and superintendents throughout Missouri and the U.S. Students can connect directly with William Woods alumni through social networks such as LinkedIn. In addition to connecting with alumni directly, students can also join LinkedIn alumni-related groups.
Make the most of your supervised teaching courses
William Woods education students have an opportunity to gain practical experience while teaching at local schools through courses such as Clinical Experience and Supervised Teaching. These courses offer students a chance to shadow and work alongside experienced teachers as they practice lesson planning, assessment, classroom management techniques and more. However, students can also leverage these courses as an opportunity to grow their network with teachers and administrators at their assigned school.