The importance of physical activity for K-12 students cannot be undermined. Research shows that students who are physically active are more likely to get higher grades in school, have regular attendance, and have better overall cognitive performance. Yet, many U.S. children and adolescents do not get the daily recommended amount of physical activity.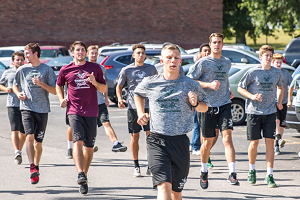 According to the Centers for Disease Control and Prevention (CDC), children and adolescents should do one hour of physical activity daily, including moderate or vigorous-intensity aerobics, muscle-strengthening, and bone-strengthening physical activity. However, only a quarter of middle school students and 70 percent of high school students engage in the recommended 60 minutes of physical activity daily.
While most states enact some physical education (PE) requirements across schools, PE classes alone are generally not enough to ensure students get the physical activity they need. Also, a 2016 Shape of the Nation Report finds that only two states "meet the national recommendations for weekly time in physical education at both elementary and middle school levels."
Athletic/activities administrators working in middle schools and high schools can play a significant role in helping to ensure that children and teens have ways of getting more physical activity that go beyond schools' PE classes.
According to CDC's Comprehensive School Physical Activity Program: A Guide for Schools, "Schools are well positioned to provide time for organized and free-time physical activity for youth through a multi-component approach that includes physical education, physical activity during school, physical activity before and after school, staff involvement, and family and community engagement." Such approach is known as Comprehensive School Physical Activity Program (CSPAP). And according to the report, athletic/activities administrators or physical educators are ideally suited to lead such programs as they understand the unique environment and culture of their school and how it correlates to physical activity.
What's the cost of not solving the problem of children's physical inactivity?
A recent Business Insider article explains how the current activity rates among children can influence the future of health outcomes. According to the cited research, "if physical activity among children remains the same as it is now, more than 8 million youths would be overweight or obese at 18 years of age."
At William Woods University, students pursuing a Master of Education in Athletics/Activities Administration, are taught the ins and outs of leading athletics and physical activity programs at all levels including middle school and high school. Students may also explore issues related to insufficient physical activity among children and teens in EDU 524 Current Issues/Common Challenges in Athletics/Activities Administration.